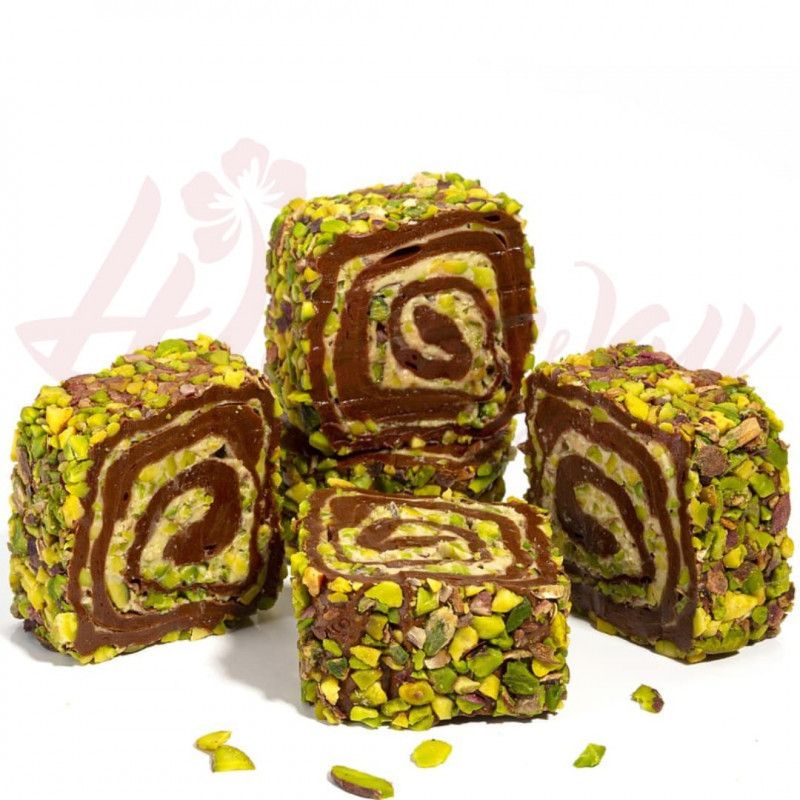  
Infinity roll
Inifnity Roll: Loukoum with notes of caramel, rolled several times with several thin layers of cream and generous pieces of crushed pistachios.
The inifnity Roll the new loukoum that rolls and rolls and rolls....
An even more gourmet novelty is appearing at Hibisway. A caramel loukoum rolled several times, and this time we changed the rules. Several thin layers of cream instead of one, and for gluttony and crunch we added crushed pistachios to all floors. To top it all off, the loukoum is rolled on a bed of crushed pistachios, a real gourmet creation as we like them!
Ingredients: Sugar, water, cornstarch, pistachio, cocoa, walnut paste, Acidity regulator (E330), dyes (E102,E110,E122,E133). Allergens: peanuts, pistachio. May also contain traces of sesame, nuts, hazelnut, almonds, peanuts. Average nutritional value (per 100g): Energy 366.7 Kcal, protein: 2.1g, Fat 3.1g (of which saturated fatty acids: 0.5g), Carbohydrates 82.3g including sugars: 63.7g. Salt: 0g Fiber: 0.6g
Customers who bought this product also bought:
arrow_upward