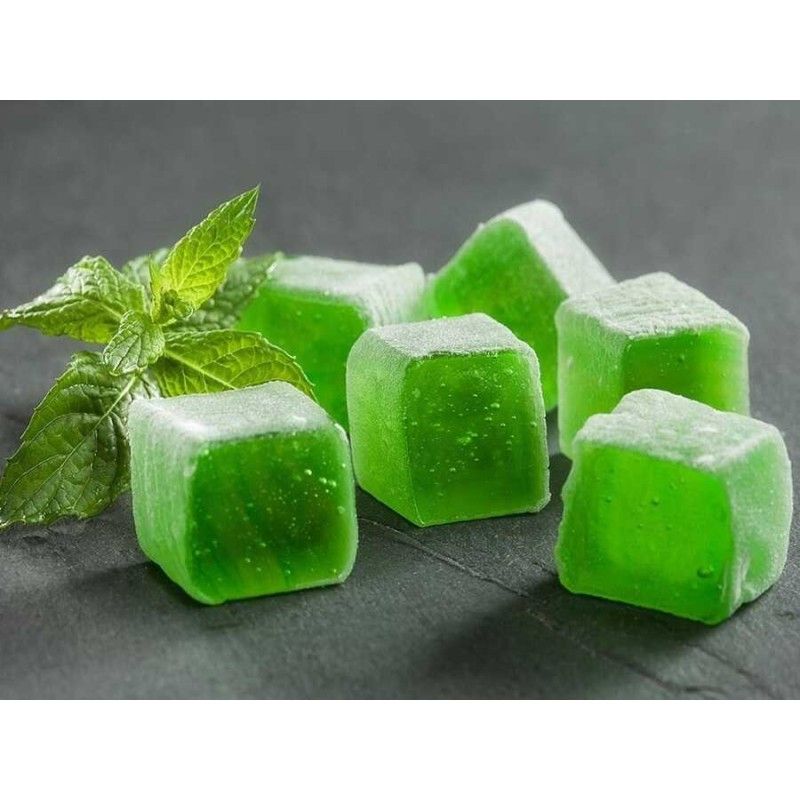  
Original Fresh Mint
The original Fresh Mint: The natural loukoum, starch water and mint aroma for a simple and authentic pleasure.
The original Fresh Mint, a ray of freshness
The Original Fresh Mint, combines softness and freshness. Its original recipe will bring sweetness to the palate by its sweet side and a feeling of freshness by its mint aromas. A subtle balance that will delight gourmets.
Invented by Ali Muheddin Haci Bekir, this loukoum (the first in a long history) has been made in the same way for more than two centuries now: from sugar to water, corn starch and aromas. Called at its origins the rest of the gosier, this sugar factory revolutionized the world of confectionery in the 18th century.
And today this loukoum still continues to make happy people...
Ingredients: Sugar, water, cornstarch, mint aroma, saponaria root extract, acidity regulator (E330), dyes (E102,E133). Average nutritional values (per 100g): Energy 366.7 Kcal, protein: 2.1g, Fat 3.1g (of which saturated fatty acids: 0.5g), Carbohydrates 82.3g including sugars: 63.7g. Salt: 0g Fiber: 0.6g
Original Fresh Mint : Parfum très léger. On sent légèrement le goût de la menthe...Pas assez moelleux !

Ninny L.

published the 06/06/2023

following an order made on 18/05/2023

Comment from Hibisway the 05/06/2023

Merci Ninny de nous avoir laissé un avis. Nous sommes en revanche navré de ne pas avoir pu répondre à vos attentes. En ce qui concerne la dégustation des loukoums Original Menthe nous avons fait le choix de ne pas surdoser les arômes et le sucre afin d'obtenir un équilibre subtil. En ce qui concerne les textures de la gamme original, il y autant de recettes de loukoum qu'il y a d'amateurs de cette légendaire confiserie, certains les préfèrent fondants et d'autres avec une consistance avec plus de "mache", au risque de faire des déçus nous avons fait le choix de nous rapprocher le plus possible de la recette originale.
Customers who bought this product also bought:
arrow_upward