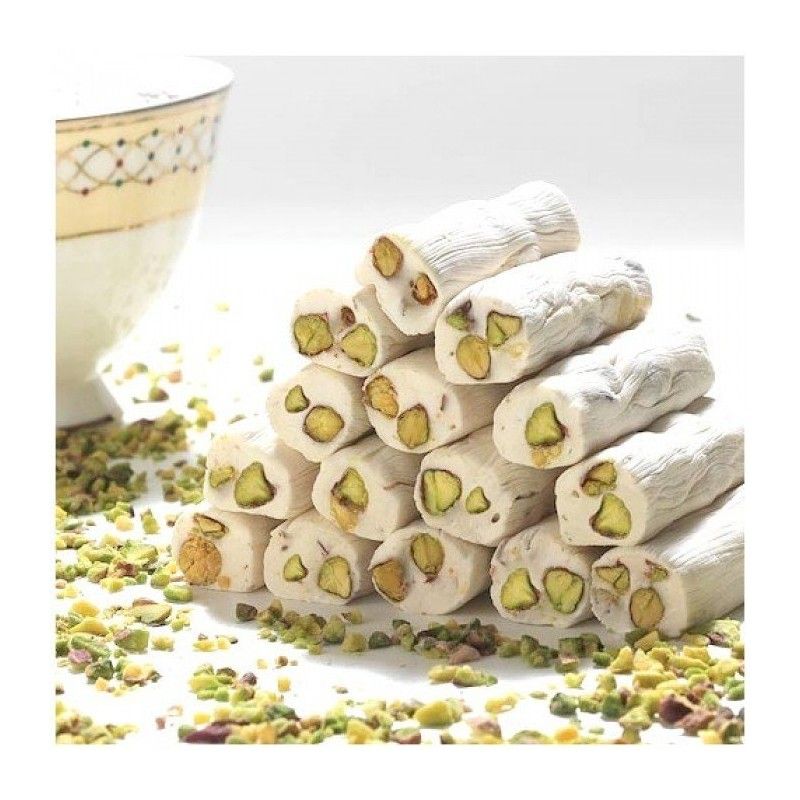  
Milky sensation fingers 330gr
Milky Sensation: The declination in its milk-based version of fingers, the extra tender loukoums, for young and old.
Milky sensation, a feeling of milky sweetness
For confectionery fans, the milky sensation is the finger not to be missed. An extra tender loukoum with an incomparable sweetness. Will the creaminess of milk and the sweetness of sugar make you melt with gluttony? We bet yes...
Learn more about fingers
The fingers are the extra soft declination of the loukoums. They contain whole pistachios which brings a touch of crunch to the sweetness of this confectionery ideal to replace industrial sweets.
Ingredients: Sugar, water, cornstarch, pistachios, saponnary root extract, butter, vanilla aroma, acidity regulator (E330). Allergens: peanuts, pistachio. May also contain traces of sesame, nuts, hazelnut, almonds, peanuts. Average nutritional values (per 100g): Energy 366.7 Kcal, protein: 2.1g, Fat 3.1g (of which saturated fatty acids: 0.5g), Carbohydrates 82.3g including sugars: 63.7g. Salt: 0g Fiber: 0.6g
Spécial comme goût , ce n'est pas exceptionnel mais passable on va dire

Sofiane B.

published the 21/07/2022

following an order made on 05/04/2022

Comment from Hibisway the 20/07/2022

Merci de nous avoir laissé un avis, vos avis sont importants pour nous afin de pouvoir satisfaire nos clients et améliorer nos produits. Le milky sensation est en effet un loukoum à base de lait dans sa version extra tendre, il fait partie de nos meilleures ventes en finger, et à la particularité d'avoir une texture onctueuse et un gout légèrement plus neutre avec des arrières notes de miel. Nous prenons en compte votre avis et nous transmettons auprès de notre service qualité. Nous notons néanmoins sans avoir complétement remporté votre adhésion, que vous avez tout de même apprécié le produit.
Customers who bought this product also bought:
arrow_upward