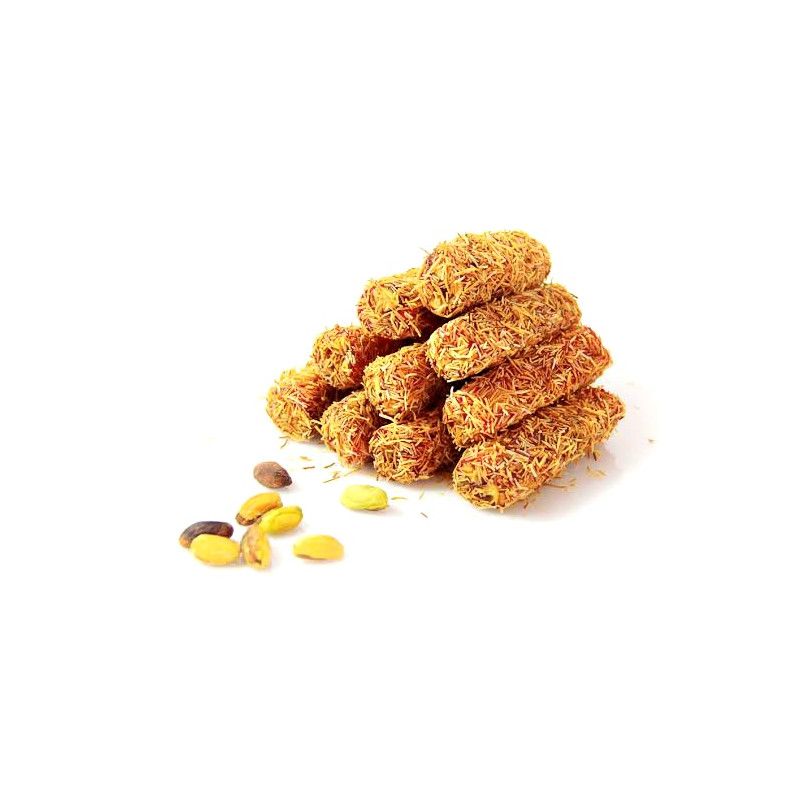  
Crispy delights fingers 330gr
Crispy Fingers: Fingers with honey aromas, garnished with whole pistachio and gently rolled on a bed of kadayif, for even more crispiness!
Crispy delights, the crispy finger.
A finger that stands out from the crowd, crispy delight has the particularity of being crispy. Covered with a layer of Kadayif (variety of Turkish vermicel) this extra tender loukoum finger with honey aromas and garnished with whole pistachios, will seduce young and old. By its delicacy and crispiness in the mouth, few are those who will be able to resist it.
Learn more about fingers
The fingers are the extra soft declination of the loukoums. They contain whole pistachios which brings a touch of crunch to the sweetness of this confectionery ideal to replace industrial sweets. This variety covered with Kadayif brings even more crunch. Kadayif is a variety of Turkish vermicelli that is often found in Turkish pastry.
Ingredients: Sugar, water, cornstarch, Pistachios, Kadayif, vanilla, Acidity regulator (E330), honey aroma, dyes (E102, E110). Allergens: peanuts, pistachio. May also contain traces of sesame, nuts, hazelnut, almonds, peanuts. Average nutritional values (per 100g): Energy 366.7 Kcal, protein: 2.1g, Fat 3.1g (of which saturated fatty acids: 0.5g), Carbohydrates 82.3g including sugars: 63.7g. Salt: 0g Fiber: 0.6g
Customers who bought this product also bought:
arrow_upward