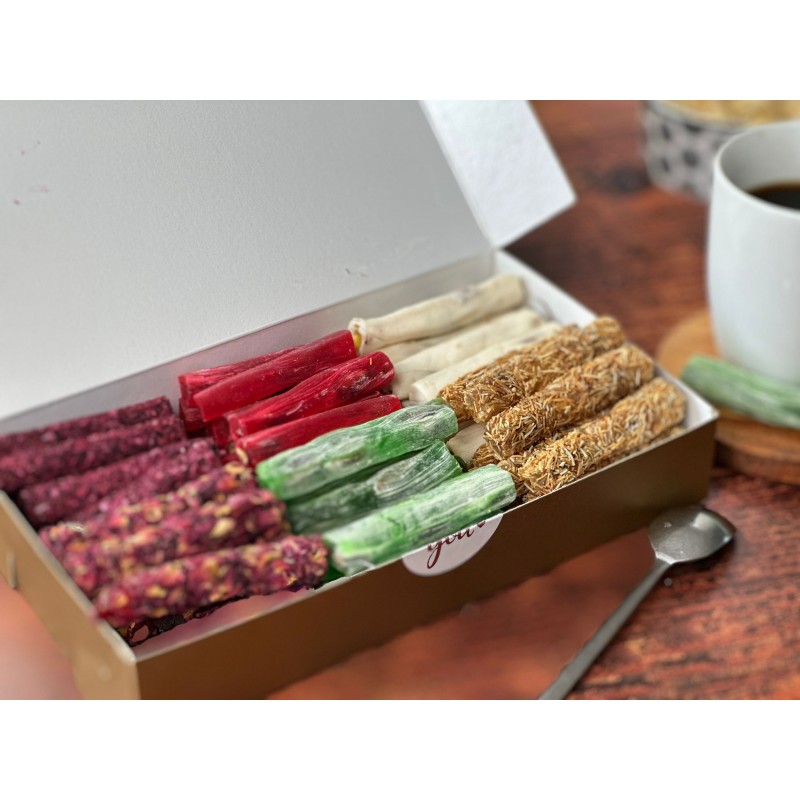  
Integral box fingers 850gr
Box Fingers: The finger box contains an assortment of all available finger loukoums (the extra soft declination of loukoums).
Weight: 850g
The box fingers, a storm of flavors in an ocean of tenderness
For lovers of confectionery, the box fingers is the box not to be missed. It makes the perfect synthesis between sweets and loukoums, more tender than classic sweets (the many additives less), the delicacy of loukoums with its pistachios and its multiple perfumes. Young and old will no longer be able to do without it.
Learn more about fingers
The fingers are the extra soft declination of the loukoums, they are garnished with a few whole pistachios. Their softness as well as the delicacy of its pistachios make it a confectionery of any moment that will delight young and old. And you guessed it, they owe their name to their long and thin shapes.
The different fragrances offered (excluding break) are: Goldfingers (honey), Pomegranate Fingers (pomegranate), Milky Sensation (milk), Raspberry (raspberry), Crispy Delights (Honey Kadayif), sweety rose (pomegranate and rose), Purple Dream (Mure & milk)
Rien à voir avec des loukoums

Marc R.

published the 02/12/2022

following an order made on 13/11/2022

Comment from Hibisway the 28/11/2022

Merci de nous avoir laissé un avis. Nous sommes désolés que votre expérience n'ai pas été à la hauteur de vos attentes. Pourriez vous nous en dire un peu plus sur votre experience à contact@hibisway.com nous transmettrons ceci au service consommateur. Bien que les loukoums fingers soient la version extra tendre du loukoum, cela reste des loukoums.

Mes préférés j adore

Muriel K.

published the 21/11/2022

following an order made on 08/11/2022
Customers who bought this product also bought:
arrow_upward