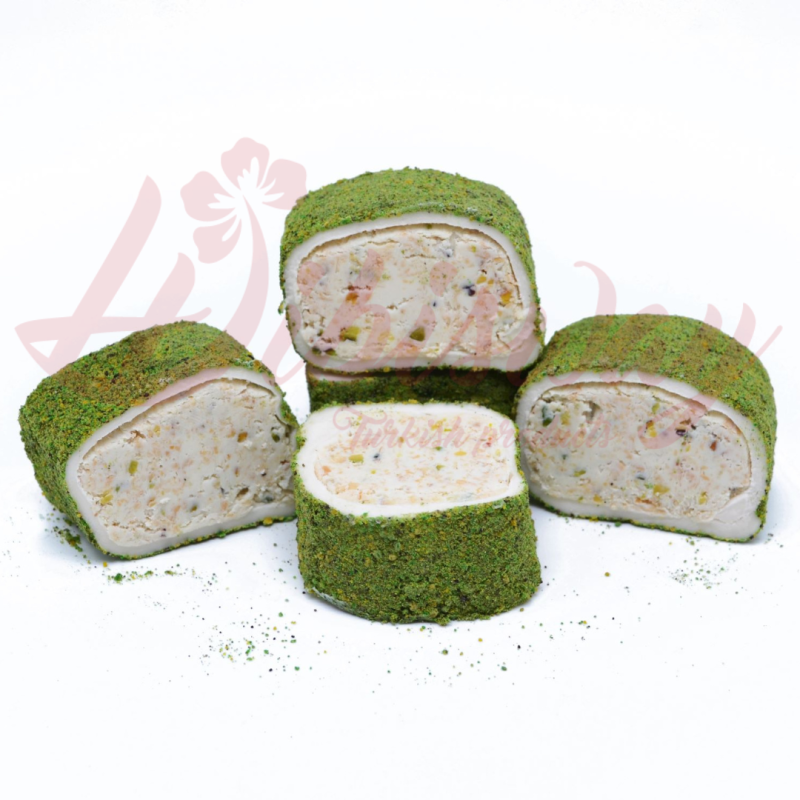  
Baklava Signature
Baklva Signature: A melting and crispy cream, with baklava, in a milky Turkish delight sprinkled with a soft and sweet powder.
Baklava Signature, the successful marriage of confectionery and oriental pastry:
How to reconcile lovers of Baklava and Turkish delight? The Baklava Signature answers this question perfectly: a milky Turkish delight, in which a cream or mixed baklava bring a crispness reminding us in passing of the famous Middle Eastern pastry. Everything is rolled in a soft and sweet powder and brings an extra touch of gluttony to this extra melting Turkish delight! Oriental pastry lovers have their sarma and no longer have to choose.
Ingredients: Sugar, water, cornstarch, almonds, almond paste, saponier extract, Acidity regulator (E330), dyes (E102,E110,E122,E133). Allergens: milk, almond. May also contain traces of sesame, nuts, hazelnut, almonds, peanuts. Average nutritional values (per 100g): Energy 366.7 Kcal, protein: 2.1g, Fat 3.1g (of which saturated fatty acids: 0.5g), Carbohydrates 82.3g including sugars: 63.7g. Salt: 0g Fiber: 0.6g
Customers who bought this product also bought:
arrow_upward