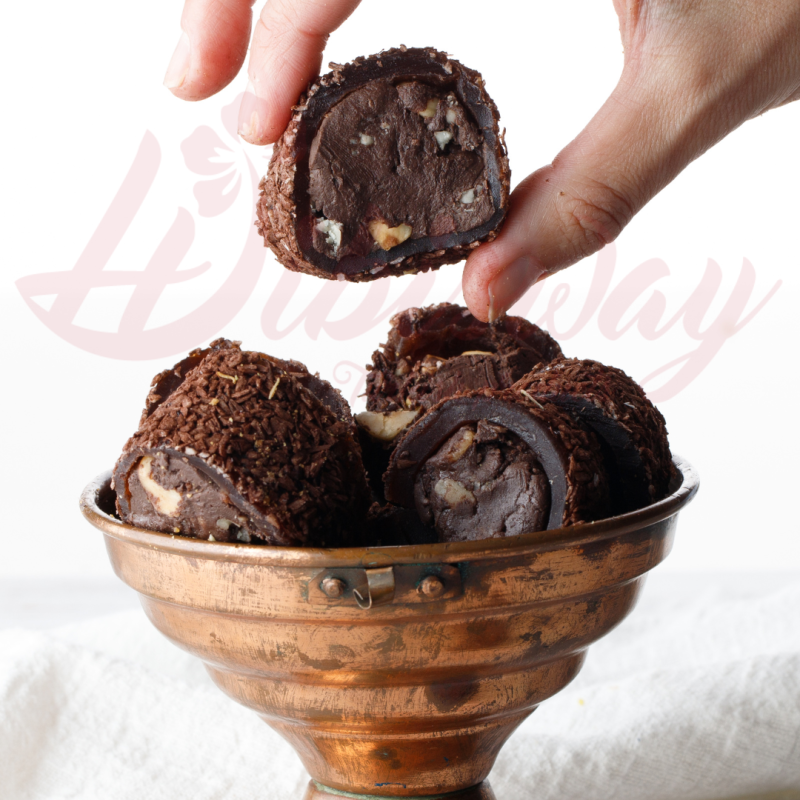  
A brownie's love
A Love of Brownie: A loukoum all in chocolate, a hazelnut cream in a loukoum with notes of cocoa sprinkled with a thin layer of chocolate coconut.
Ingredients: Ingredients: Sugar, water, cornstarch, coconut, cocoa, chocolate, hazelnuts, saponary root extract, acidity regulator (E330), dyes (E102,E110,E122,E133). Allergens: milk, nuts. May also contain traces of sesame, nuts, hazelnut, almonds, peanuts. Average nutritional value (per 100g): Energy 366.7 Kcal, protein: 2.1g, Fat 3.1g (of which saturated fatty acids: 0.5g), Carbohydrates 82.3g including sugars: 63.7g. Salt: 0g Fiber: 0.6g
A love of Brownie: a sublime encounter between loukoum and chocolate
Among the original and modern recipes of Sarma, this loukoum will amaze you with its chocolate cream, melting and delicate. This chocolate-infused loukoum contains a creamy cream with generous pieces of hazelnut, all rolled on a bed of chocolate coconut. Lovers of loukoum and chocolate will no longer have to choose, We have brought everything together in one product.
Toujours merveilleux, de haute qualité. Un produit fantastique.

Maria K.

published the 12/07/2023

following an order made on 26/06/2023

superbe qualité mais très addictif dans le bon sens. Hautement recommandé.

Maria K.

published the 27/06/2023

following an order made on 10/06/2023
Customers who bought this product also bought:
arrow_upward