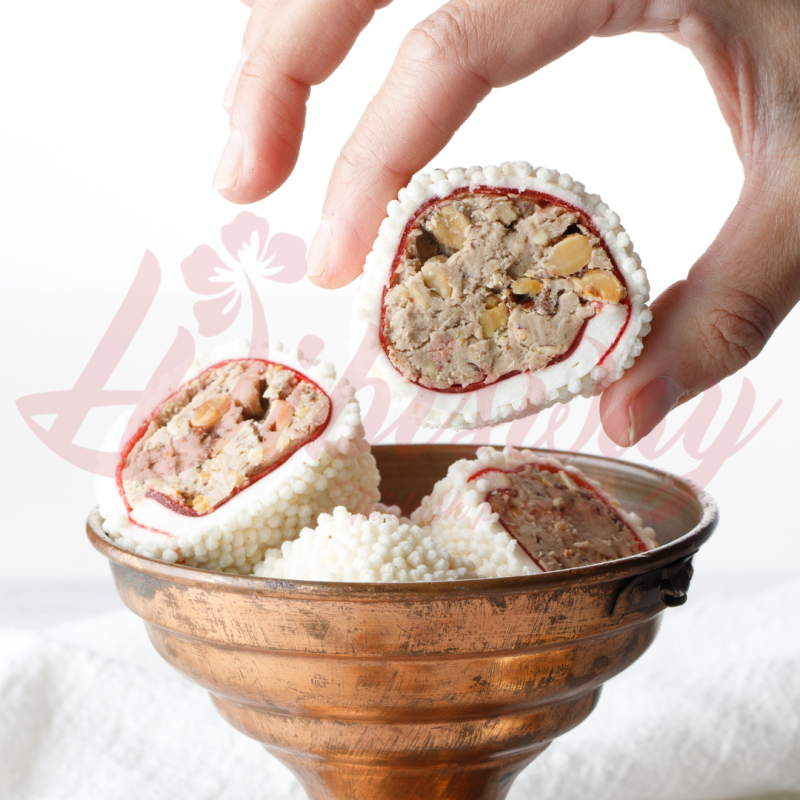  
Milky Pearl
Milky Pearl: An almond cream wrapped in a double layer of strawberry loukum and milky loukoum, rolled it in thin pearls of puffed rice.
Milky Pearl, a masterpiece of originality
This loukoum stands out for its design. We opted for 2 thin layers of loukoum with the sweetness of milky loukoum and the fruity side of a layer of strawberry loukoum. The milky pearl contains a sweet cream with crunchy almonds and the final touch is a coating with a layer of crunchy mini puffed rice pearls that brings an extra touch of originality. Will you resist temptation?
Ingredients: Sugar, water, cornstarch, almonds, saponary root extract, acidity regulator (E330), butter, strawberry aroma, dyes (E129). Allergens: milk, nuts. May also contain traces of sesame, nuts, hazelnut, almonds, peanuts. Average nutritional value (per 100g): Energy 366.7 Kcal, protein: 2.1g, Fat 3.1g (of which saturated fatty acids: 0.5g), Carbohydrates 82.3g including sugars: 63.7g. Salt: 0g Fiber: 0.6g
Customers who bought this product also bought:
arrow_upward