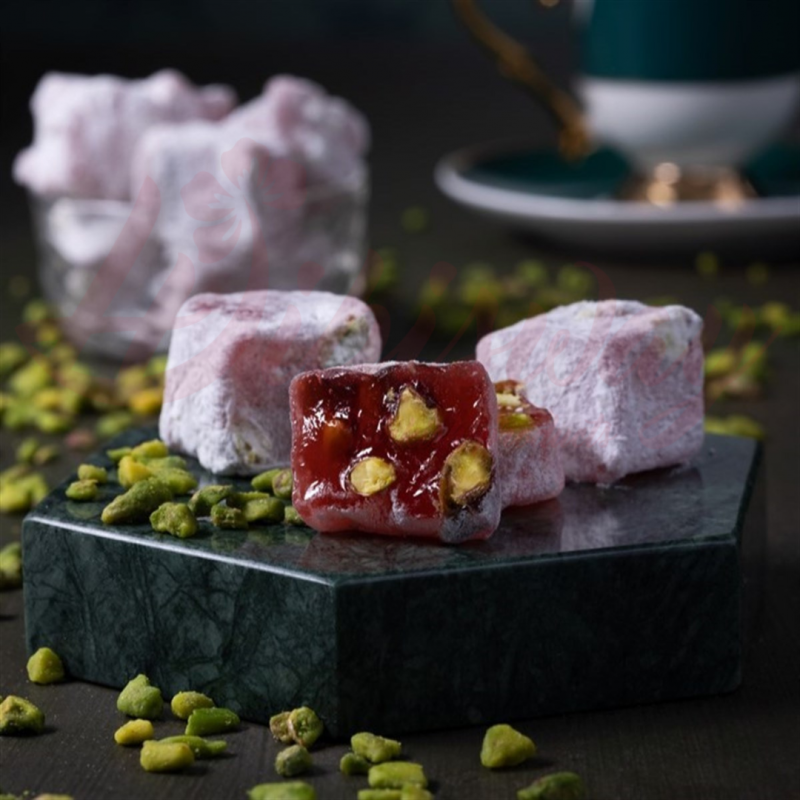  
Classic pomegranate
Classic Granada: The pistachio pomegranate loukoum is probably the best known and appreciated of the loukoums after the classic rose loukoum. Flavored with pomegranate this loukoum is topped with pistachio pieces and sprinkled with icing sugar. A must.
Classic Granada: The Indetronable
The classic pomegranate box is composed of loukoums flavored with pomegranate and garnished with pistachios in the form of small cubes sprinkled with icing sugar. It has already conquered many hearts and continues every day to seduce lovers of loukoums. Its fruity taste blends perfectly with the generosity of pistachio, it leaves no one indifferent and this is surely what makes its success. Inevitable!
Ingredients: Sugar, water, cornstarch, pistachios, acidity regulating pomegranate aroma (E330), dyes (E129). Allergens: nuts. May also contain traces of sesame, nuts, hazelnut, almonds, peanuts. Average nutritional values (per 100g): Energy 366.7 Kcal, protein: 2.1g, Fat 3.1g (of which saturated fatty acids: 0.5g), Carbohydrates 82.3g including sugars: 63.7g. Salt: 0g Fiber: 0.6g
Customers who bought this product also bought:
arrow_upward