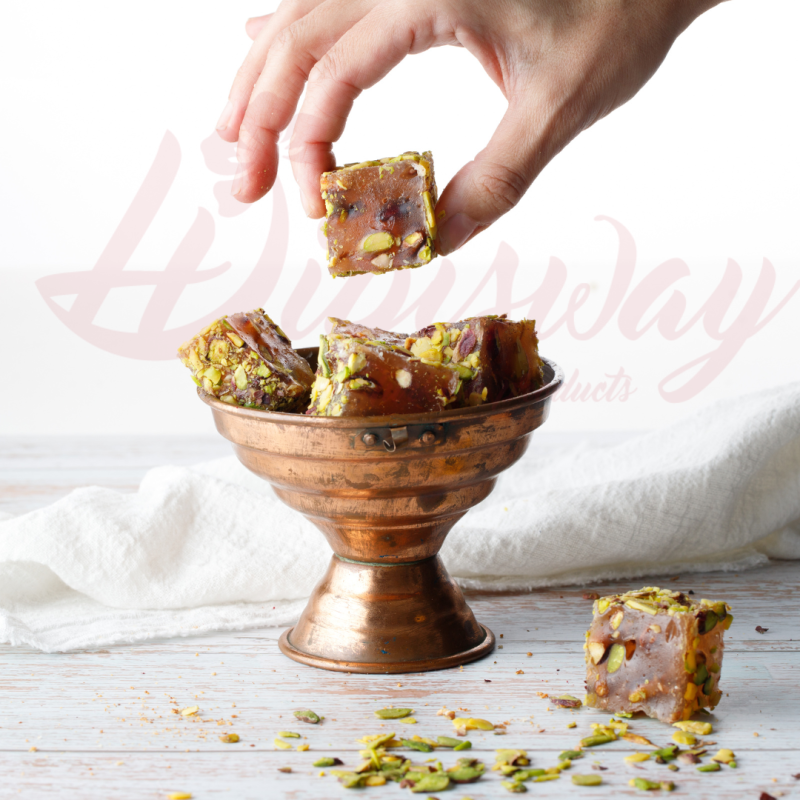  
Honeystacchio
Honeystacchio: Square loukum with honey flavors and crunchy pistachios and covered with tapered pistachios. A simple and gourmet pleasure.
Honeystacchio The classic of the square range
We no longer present this loukoum which is now part of the classics. Honeystacchio combines the sweetness of honey aromas with the crunch of pistachios, it can be enjoyed in squares or thin slices around a coffee, tea or at any time. A product that we like to use again and again...
Ingredients: Sugar, water, cornstarch, pistachios, acidity regulator (E330), vanilla. Allergens: milk, nuts. May also contain traces of sesame, nuts, hazelnut, almonds, peanuts. Average nutritional values (per 100g): Energy 366.7 Kcal, protein: 2.1g, Fat 3.1g (of which saturated fatty acids: 0.5g), Carbohydrates 82.3g including sugars: 63.7g. Salt: 0g Fiber: 0.6g
Mes préférées ...

Elena-Rodica I.

published the 26/12/2022

following an order made on 14/12/2022

Exactement comme je le pensais. Je me suis régalé. Je ne peux pas mettre de note pour les deux autres articles commandés car je ne les ai pas encore goûtés. Le gout de ceux-ci ressemble bcp à ceux que l'on me rapportait de Turquie. Je suis vraiment très satisfait et j'ai hâte de gouter les deux autres variétés commandées.

Baverel N.

published the 27/07/2022

following an order made on 16/07/2022

Comment from Hibisway the 29/07/2022

Merci pour ce super avis. Nous sommes ravis de vous avoir transporté un instant sur les rives du Bosphore :-). Au plaisir de vous compter parmi nos fidèles clientes.
Customers who bought this product also bought:
arrow_upward