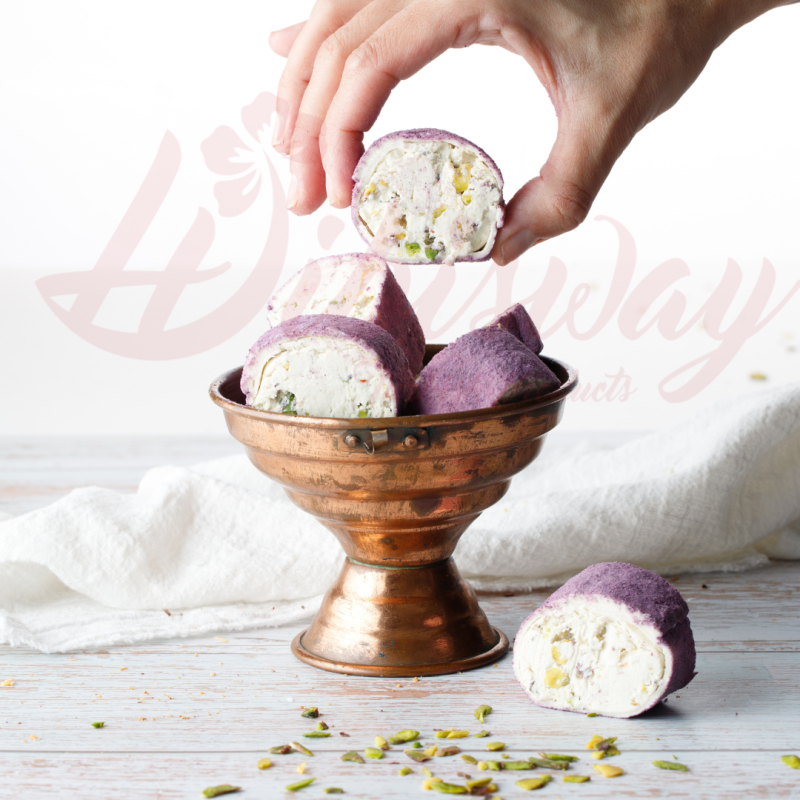  
Purple sweetness
Purple sweetness : a pistachio cream garnished with pistachios, all wrapped in a milky Turkish delight rolled on a purple and sweet powder. A real gourmet sweetness.
Purple sweetness, a sweet and colorful delicacy:
The Turkish delight sarma purple sweetness is sure to please pistachio lovers: a gourmet cream with crunchy pistachios rolled in a soft milky Turkish delight, and since pleasure never comes alone, the Turkish delight is rolled in a purple powder. Visual spectacle and gluttony guaranteed for this colorful Turkish delight.
Ingredients: Sugar, water, cornstarch, walnut paste, pistachio, saponary extract, Vanilla flavoured butter, Acidity regulator (E330). Allergens: peanuts, pistachio. May also contain traces of sesame, nuts, hazelnut, almonds, peanuts. Average nutritional values (per 100g): Energy 366.7 Kcal, protein: 2.1g, Fat 3.1g (of which saturated fatty acids: 0.5g), Carbohydrates 82.3g including sugars: 63.7g. Salt: 0g Fiber: 0.6g
Customers who bought this product also bought:
arrow_upward